Family Holiday Packages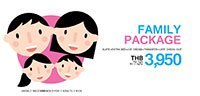 GREAT SAVER FOR FAMILY
Ah, the family vacation—accommodating to ease parents and please kids through a well range of amenities and services, Baiyoke Group of Hotels in Pratunam and Siam shopping areas offers one of the most welcoming family holiday packages in Bangkok. Start exploring what it has to offer and be sure to get indulged!
Be the first to know our new promotions
Enter your email here and receive our best offers.